Vietnamese rolls have a lot of names; Gối cuốn, salad roll, summer roll, fresh spring roll, spring roll, or rice paper roll. The reason for the many names is very clear. These rolls are so practical, and delicious, that people around the world eat them.
Vietnamese rolls are a dish made from pork, prawn, vegetables, and similar ingredients. They are usually served fresh, at room temperature, and are not fried or cooked outside. This dish is extremely popular in Vietnamese restaurants and seems to conquer the whole world.
The preparation of these famous and delicious rolls is simple. The rice paper is briefly dipped in water and placed on a dry surface. After one minute the rice paper will be soft and ready to roll.
Rice paper consists of rice and water. That is why it is suitable for people with celiac disease, vegans, and vegetarians.
Well, let's get started with the preparation of spring rolls! We prepared 2 recipes for you and one of them is vegan!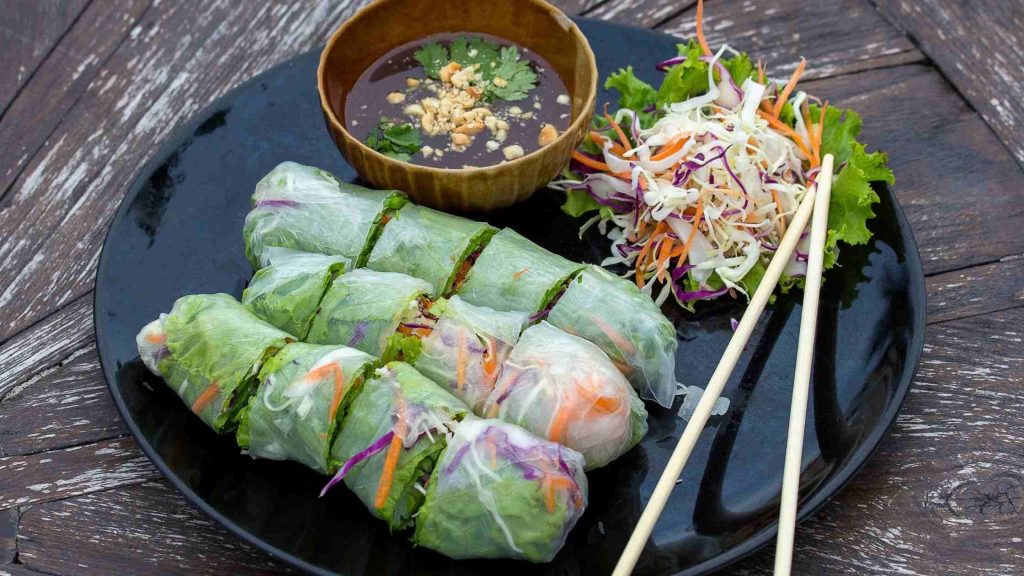 Fresh Vietnamese rolls with vegetables
2 ounces rice vermicelli

8 rice papers

8 large shrimps – cleaned and cooked

1 1/3 tbs Thai basil – chopped

3 tbsp mint leaves – chopped

3 tbsp cilantro – chopped

2 lettuce leaves – chopped

4 tbsp fish sauce

¼ cup water

2 tbsp fresh lime juice

1 clove of garlic – minced

½ tsp garlic chili sauce

3 tbsp hoisin sauce

1 tsp peanuts – finely chopped
Heat the water in a medium pot and let it boil. Stir in the vermicelli rice and cook for about 3 to 5 minutes. It would be best to try so that the rice vermicelli would not overcook.
Fill a shallow bowl with water and dip the rice papers in it. Dip the paper for a second and take it out so it doesn't overcook. Place the paper on a dry surface and start placing the groceries. First, put the shrimp, then a handful of rice vermicelli, mint, basil, lettuce, and cilantro. Leave a gap of about 3cm on each side so you can roll without your food falling out.
Then you will make the sauce. In a small bowl, combine the fish sauce, water, garlic, sugar, chili sauce, and lime juice. Then mix the hoisin sauce and peanuts in another small bowl. There you go.
Serve Vietnamese rolls on a dry surface with two sauces and enjoy!
Vegan Fresh Vietnamese rolls With Peanut Sauce
Spring rolls:
2 ounces rice vermicelli

1 tsp sesame oil

¼ tsp lettuce

1 cup red cabbage – thinly sliced

2 medium carrots – julienne strips

2 Persian cucumbers – thinly sliced

2 medium jalapenos – thinly sliced

¼ cup green onions – thinly sliced

¼ cup fresh mint – chopped

8 rice papers
Peanut sauce:
1/3 cup creamy peanut butter

2 tbsp tamari or soy sauce

2 tbsp maple syrup

1 tbsp sesame oil

2 cloves garlic – minced

2 to 3 tbsp water
Boil water in a bowl and add rice vermicelli. Cook for about 4 minutes, or until al dente. When they are cooked, drain them and put them back in the pot, season with sesame oil, salt, and stir.
The next step is to put the water on a shallow plate in which to dip the rice papers. Prepare all the ingredients for the filling; green onion, cilantro, and mint. When you dip the rice paper, put it aside and start filling it with the ingredients. The order of stacking the ingredients is not so important, it will end up in the stomach anyway.
Roll up your Vietnamese rolls like a burrito. Repeat until you have used up all the ingredients.
As for the peanut sauce, in a small bowl, mix the peanut butter, rice vinegar, tamari, maple syrup, sesame oil, and garlic. Add a little more water so that the sauce is not too thick. That's it, the sauce is done, the rolls are done. Enjoy!