Thanksgiving is a holiday held in the United States, Canada, Grenada, Saint Lucia, and Liberia. It begins as a day on which each person in the household gives thanks and sacrifice for all the blessed harvest and for the following year.
This holiday is celebrated on the first Monday in October in Canada, and the fourth Thursday in November for the United States.
Today, Thanksgiving is commercialized, expanded, and very popular. A whole tradition has developed around Thanksgiving dinner, for which turkey must be served. Some of the other traditions are definitely Macy's Thanksgiving Day Parade, breaking the Wishbone for good luck, sharing what you are most thankful for, watching an American football game … The tradition is really huge, and somehow the favorite is definitely Thanksgiving dinner.
Thanksgiving dinner includes several courses, it is actually a feast where you can find side dishes, turkey meat, sauces, desserts, stews … On this day, most American and Canadian families have their hands full of work.
What to do for a healthy Thanksgiving dinner?
What is quite traditional and most popular is roast turkey, turkey filling, cranberry sauce, and pumpkin pie.
We will do all this now, but in a healthy way, without using a lot of fat and unnecessary calories. In addition, the whole dinner will be completely safe for people with celiac disease or for those who do not eat gluten for other reasons.
Healthy Roast Turkey
To prepare this main part of Thanksgiving dinner you will set aside about 30 minutes of your preparation time, but the total preparation + baking will take about 3 and a half hours.
You will need:
1 12 pound turkey

¼ cup herbs

20 whole sprigs (thyme, rosemary, sage, oregano)

2 tbsp canola oil

1 tsp salt

1 tsp pepper

1 onion, 1 apple, 1 orange (cut into 2-inch pieces)
You will first remove the turkey entrails and turkey neck. Save this for later sauce preparation. Transfer the turkey to a wider baking dish and dry it with paper towels. In a small bowl sideways, mix the herbs, oil, salt, and pepper. Spread this mixture over the surface of the whole turkey. Put aromatic ingredients (onion, apple, orange) and 10 sprigs of herbs in the turkey cavity. Push the turkey wings under the turkey. Tie the turkey legs with a rope. Add three cups of water to the baking dish and the rest of the spice sprigs.

Bake the turkey in the oven preheated to 475 F for about 45 minutes. Remove the turkey from the oven. Cover turkey breast with a double layer of foil, and let the foil be exactly the size of the turkey's breast. Return to the oven.

Now that your turkey is back in the oven, reduce the oven temperature to 350 F and bake until the thermometer * records 165 F (this will take about 1 and 2/3 hours). If water is missing, pour more.

When the turkey is cooked, transfer it to a serving plate and cover it with new foil. Let the turkey rest for approx. 20 minutes and done.
* use a thermometer to check the temperature in the thickest part of the thigh without touching the bone.
Turkey filling
Everyone has their own way of preparing the filling for turkey, and this is one of the healthier variants.
You will need:
2 gluten-free baguettes or gluten-free bread of your choice

8 tbsp Ghee, plus extra tbsp for baking dish

1 large onion, diced

4 stalks celery, thinly sliced

2 cloves garlic, minced

½ parsley, chopped

1 tbsp fresh thyme leaves, minced

1 tbsp fresh rosemary, chopped

1 tsp Kosher salt

2 tsp pepper

4 low sodium vegetable (or chicken) broth

2 large eggs, beaten
Leave the bread outside the night before to dry. It would be best if you left the cubes, not the whole slices, to dry. If you haven't had time to leave the bread outside overnight, we advise you to use the oven (about 20 minutes at 200 degrees).

Preheat the oven to 350 degrees and prepare a larger baking sheet. You will first melt the ghee in a pan. Then, add the onion and celery and cook until the vegetables are soft, about 10 minutes. Stir in the garlic, parsley, sage, thyme, rosemary, and cook until fragrant, about another minute longer. Season with salt and pepper.

Put the bread in the already prepared baking dish and put the mixture from the pan on the bread. Mix all ingredients. In a bowl next to it, mix the broth and beaten eggs and pour over the bread, and mix. Add more salt and pepper.

Before you start baking, keep in mind that it is better to use baking paper. Also, cover the stuffing with foil. Bake for about 45 minutes with foil, then remove the foil and bake for another 15 to 20 minutes.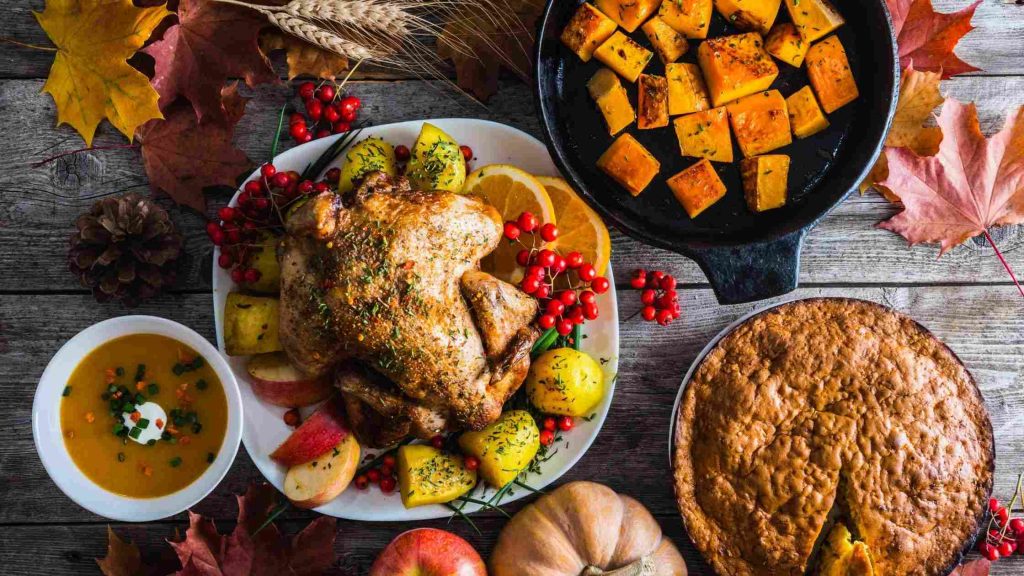 Cranberry sauce
This is one of the more popular sauces ever! It will take you only a few minutes to prepare it, and it will add the finishing touch to your Thanksgiving dinner.
You will need:
12 ounces Cranberries – it is best to use fresh, but if you do not have the opportunity, you can also freeze. If you use frozen, you will need to cook a little longer for the sauce to thicken.

¼ cup Maple Syrup – this syrup is responsible for the "Healthy" version of this Thanksgiving dinner. Maple syrup has natural sugar in it and is a much healthier option than sugar.

½ cup fresh-squeezed Orange juice – the juice will give a very nice note to the syrup, it won't be as sweet. You OJ can definitely throw it out, but then add a crumb of more syrup.

1 tsp Vanilla extract – will give on the depth of taste and goes perfectly with the rest of the ingredients
Put all these ingredients listed above in a medium-sized pot. Let your fire be a little bigger and let it all boil together. When the sauce has boiled, reduce the heat and cook gently for the next 6 to 8 minutes. Don't forget to stir often so your sauce doesn't burn. Cook until you get the desired density of the sauce.

Crush the remaining cranberries with a fork or potato masher. Cool completely before serving, and if you have any leftovers, you can store this sauce in the refrigerator for up to 1 week.
Pumpkin pie
Aaaand … * drum rolls * PUMPKIN PIE! The absolute star of the evening is a Pumpkin pie. This pie is a favorite dessert of every Thanksgiving dinner! Either it is carried as a gift to the host, or it is already waiting on the table.
This pumpkin pie is healthy because it has a lot less sugar, consists of 6 ingredients, and does not contain dairy.
Without much lengthening, let's get going.
You will need:
1 9-inch Gluten-free Pie crust

15 oz pumpkin puree

1 ¼ Almond milk (or any other)

¾ cup Maple syrup

1 tsp Pumpkin pie spice

1 tbsp Cornflour
Toppings (optional):
First, preheat the oven to 180 degrees Celsius, or 350 F. Prepare the pie crusts and set them aside.

Put all the ingredients except the pie crust in a deeper pan. Mix everything well and maintain medium heat. The filling must thicken completely and it must start cooking slowly.

When the filling has started to boil, take a mixer and mix everything. You should get a thick and creamy mixture. Cool the short charge.

Fill the pie crust with the filling and bake for about 40 minutes. You should get a golden brown cover.

When the pie is done, before you transfer it to the refrigerator, you need to cool it completely to room temperature.
We hope you'll have a wonderful Thanksgiving dinner! Happy Thanksgiving!