Energy or protein balls are a combination of protein, good carbohydrates, healthy fats, and a lot of fiber. Depending on the ingredients, each protein ball will have about 100 to 200 calories, but, of course, it can also have only 15 calories. It all depends on the ingredients you are using.
Protein balls are the perfect snack for between meals, and they are small and compact so you can take them with you to work. You can consume them before or half a workout and they make a great source of protein.
You can improve your diet by consuming protein balls! These are healthy alternatives to snacks with a high content of sodium or sugar. The recommended daily amount of these protein balls is 2 to 3 pieces because they often contain a lot of calories.
Whenever we ran out of protein powder, we are like…
"OMG!! NO WHEY."
Let's make some protein balls!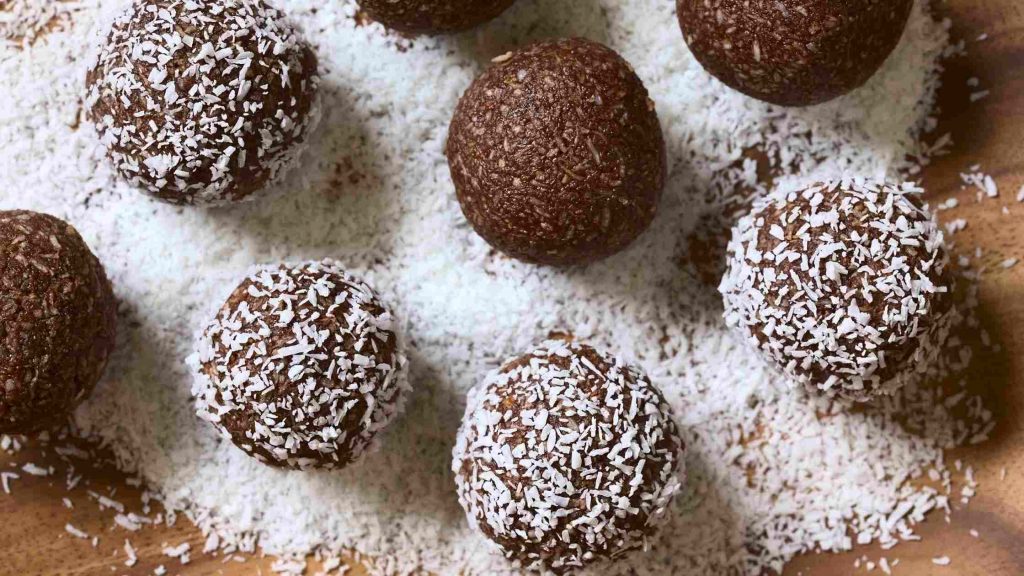 Raw protein balls: a great snack after breakfast, lunch, and dinner!
As the name suggests, you don't need an oven to prepare these protein balls.
Ingredients for raw protein balls:
125g peanut butter

100g gluten-free oatmeal

60g walnuts

35g of toasted sunflower seeds

1-8 pitted dates

2 tablespoons maple syrup

A pinch of salt
The preparation is more than simple. Put the peanut butter, dates, and syrup in a blender or chopper. Blend until you get a uniform mixture, then add the rest of the ingredients. If you notice that your mixture is dry, feel free to add water, spoon by spoon. If the mixture is too thick, add more oatmeal. 
From this amount of ingredients, you can get about 15 to 20 balls. It depends on how big you make them.
Roll the balls in pieces of nuts and serve!
For all those allergic to nuts, we have a substitute for you! Use coconut butter or sunflower seed butter instead of peanut butter. This butter will perfectly replace peanut butter! As for the gluten-free option, there is no such allergen in this recipe. It is recommended to buy declared gluten-free food. Also, if you are vegan, put vegetable butter like coconut instead!
Protein chocolate balls
Ah .. of course! Nowhere without chocolate! These protein chocolate balls will knock you off your feet at the first bite, and you don't need a lot of ingredients. To make it easier for you, yes, this recipe is also non-baking!
1 tablespoon cocoa powder

1 tablespoon peanut butter

30g coconut flour or crumbs

1 scoop of whey protein

20g crushed almonds or peanuts

A pinch of stevia
Mix all the above ingredients with your hands in a larger bowl. The mixture must be firm and compact. If it breaks, add water little by little. Water will bind ingredients that failed to bind themselves.
Shape the balls with your hands, roll them in coconut crumbs or ground nuts. Leave them in the fridge for at least 2 hours to compress nicely and that's it! Voila!
If there are allergy sufferers among you, we have a few substitutes. If you are allergic to nuts, feel free to replace peanut butter with sunflower seed butter or coconut butter. This recipe is gluten-free, but please buy gluten-free declared food! We are also here for all our vegans and vegetarians – use coconut butter. And instead of whey protein, add protein from peas, hemp, rice, or chia seeds!
Strawberry protein balls
We think we have a new favorite recipe! These sweet snacks will accompany you around the house and at work.
There are a few more ingredients than the previous two recipes, but it pays off, believe me.
1 cup oatmeal

½ cups of coconut flour or oatmeal

1 scoop of vanilla whey protein

½ cups of full-fat Greek yogurt

½ teaspoons of vanilla extract

1 tablespoon unsweetened almond milk

10 fresh strawberries

¼ cups of coconut oil

A pinch of salt
Mix the oatmeal, flour, salt, and protein powder (all dry ingredients) until the mixture is combined. Add yogurt, vanilla extract, milk, and fresh finely chopped strawberries to this mixture. Stir until you get a compact mixture. Start shaping the balls and roll them in coconut crumbs or crumbs as desired. Put them in the fridge to squeeze and serve!
If you are not allowed to consume gluten, we recommend using coconut flour. For all vegans and vegetarians, replace Greek yogurt with vegan, and whey with pea protein. Enjoy!